Initiatives of Emil Stoyanov
In his office in Plovdiv Emil Stoyanov met with students from High School "Ivan Vazov" and the French School "Antoine de Saint Exupery."
The young people are from grades X and XI and members in a European debates' club. During this extracurricular activity they learn about the work of European institutions and particularly about the work of a Member of the European Parliament.
---
From Monday to Friday MEPs, officials and visitors of the European Parliament in Brussels will have the opportunity to enter the magical and wonderful world of the artist Suli Seferov and the sculptor Ivan Minekov. The exhibition showing their works is entitled "Legends from Bulgaria" and organized by the Bulgarian MEP Emil Stoyanov who is Member of the Committee on Culture, Education and Media.
---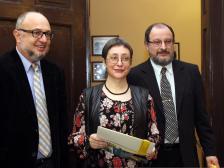 Prof. Inna Peleva of Plovdiv University "Paisii Hilendarski" is this year's winner of the Pygmalion Foundation. This award is granted for extraordinary contribution in the field of philology and was given to Prof. Peleva by the Founder and President of the Pygmalion Foundation - the Member of the European Parliament Emil Stoyanov. He awarded also the students, who this summer worked on the digitization of cultural heritage of Plovdiv in connection with the project 'Europeana'.
---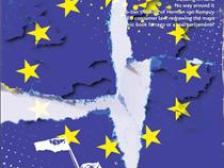 Article by Colin Stevens, published in the October issue of EU REPORTER

The foyer of the European Parliament in Brussels is the venue for an exhibition of gold and silver treasures from Bulgaria, paying homage the Bulgaria's ancestors from Thracia. Thracia - Тракия in Bulgarian, - was the name of a province of the Roman empire in Macedonia. It was established in AD 46, when the former Roman client state of Thrace was annexed by order of the Roman Emperor Claudius, who ruled from AD 41 to AD 54.
---
On 11 October, in the presence of the President of the European Parliament Jerzy Buzek the largest ever Bulgarian exhibition in the European Parliament was opened. In the lobby of the European Parliament the Thracian treasures were showcased. Large banners were telling the story of the Bulgarian gold and even yesterday hundreds of people came to see the exhibition. The exhibition was initiated by Emil Stoyanov, Member of the European Parliament, also present at the opening was the Prime Minister of Republic of Bulgaria Boyko Borissov and the Bulgarian Commissioner Kristalina Georgieva.
---
On the 11th of October 2011 following the initiative of the Member of the European Parliament Emil Stoyanov will open the exhibition ""Treasures from Bulgaria. The Gold of the Thracian Warriors". The exhibition will be opened in the presence of Jerzy Buzek, President of the European Parliament and Boyko Borisov, Prime Minister of Bulgaria. The event will be attended by both MEPs, Commissioners, and representatives of important cultural and political circles in the capital of Europe. The official comment of Mr Emil Stoyanov:
---