"Europeana" - the Window from Which we Could See the Neigbourgs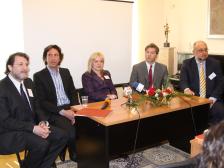 With a memorandum calling on the need for national policy on digitization of the cultural heritage, concluded the International Conference "Necessary steps for integration of Bulgaria into the Europeana".
It was organized by the Member of the European Parliament Emil Stoyanov in Plovdiv on 23 and 24 April and brought together for the first time in Bulgaria representatives of the European Commission, Foundation Europeana, the Ministry of Culture, the National Assembly and the biggest Bulgarian libraries, the academic and the cultural institutions involved in the project of digitization of the spiritual heritage of Europe.

The digital library Europeans, created 15 months ago to bring the cultural heritage of Europe at the click of a mouse already has 7 million digital files, but only about one hundred are related to Bulgaria.

The participants concluded that Bulgaria still has no national policy and technological infrastructure to allow it has it merit place in the European venture and therefore urged the authorities to develop a national strategy for digitization, to establish a National Council on digitization of cultural and historical heritage, to build a national register of digital catalogues and to work actively to promote the project.

"Europeana will now be the most important information source in which Europeans, and not only can they learn about other Europeans. This is the window that we could easily open to see our neighbours", Stoyanov stressed during the forum which gathered over 40 scientists and politicians.
---
---
More Europeana: